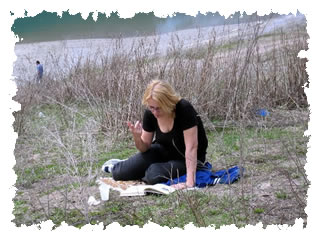 I received my invitation in October 2003, and I continued to work at Targetbase until January 30, 2004. I took all of February as my own personal time to prepare for my PC experience and spend time with friends and family. I spent two weeks relaxing in Koh Samui, Thailand, then I spent the last two weeks of February with my Family in Kentucky. In addition, I had many things that had to be done prior to departure-- prepare taxes, sell my car, store possessions, prepare future care packages, pack for two years and meet the 100 lb. limit. Lastly and most importantly, I just enjoyed every minute with my family, my friends, my dog and everything that is great about the US. I plan to savour those memories.
Our preservice training was held in Issyk, Kazakhstan. Issyk is a small town located about one hour outside of Almaty. We began our Russian language training at 9AM each morning and we had technical training every afternoon. We were divided into small study groups (my group had 4 students). We studied Russian everyday for 10 weeks (20 hours each week). Our instructors were also our culture teachers and taught us how to acclimate to KZ in general, host family life, and business life. Overall, it was fun and exciting.
Here is a snapshot of a typical day in training.
Typical Training Schedule in Issyk: Monday - Saturday (yes, I even had training on Saturday)
| | |
| --- | --- |
| Time | Description |
| 7:30 am | Wake up and take a sponge bath (my host mother boiled hot water for me - I used one small bucket of hot water to wash my body and hair) |
| 8 am | Eat breakfast with host family (we ate the left over food from the night before and it was usually good) |
| 8:30 am | Leave for language class (no buses only feet -- It took me about 5-7 minutes to walk from my apartment to my class) |
| 9 am -1 pm | Russian language class (my language class was held in an apartment with three other students) |
| 1 pm -2 pm | Lunch with host family (sometimes my host mother packed a lunch for me otherwise I ate at home with her and my host family) |
| 2 pm - 5:30 pm | NGO/Business training at hub site (this was our technical training that prepared us to work with an NGO in KZ. The training was located in the center of Issyk). |
| 5:30 pm -6:30 pm | Internet, talk with Peace Corps staff and other volunteers |
| 6:30 pm - 7:00 pm | Walk or take a taxi home (about a 35 minute walk from the hub site or 5-7 minute taxi ride) |
| 7 pm | Dinner with host family (We ate around 6:30) |
| 7:30 pm - ? | Meet friends, go ghosting, do homework, watch movies, listen to music, update website, talk with family etc. |