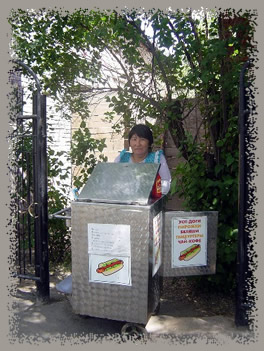 Could joining the Peace Corps be the longest and most bureaucratic process known to man? After 7 months of applications, security clearance, reference letters, and interviews you receive your official nomination. Then, you are ready for medical and dental exams. Yes, you also need to visit the eye doctor and have every legal clearance under the sun. Once this is complete, you need to patiently wait for your final invitation. Here is the PC theory -- If you are not even patient enough to make it through the selection process, then you probably wouldn't survive 27 Months in the Peace Corps.
Here is a brief overview of the process and a few pointers:
Step 1: Go to the official Peace Corps and read all of the material to be sure you are interested. If you are interested then complete the online application. The application requires an overview of every relevant course, internship, job, hobby or special training that may qualify you for the Peace Corps. You will also need to submit three reference letters, a copy of your university transcripts and write two essays (motivation to apply statement, and overview of past cross cultural experiences). They state that it will take about 8 hours to complete the application but in reality in takes several days to pull all of the material together.
Step 2: Once your application has been reviewed, the Peace Corps will decide if your background will qualify you for any of the PC program areas. If it does, then you will be scheduled for an interview with a Peace Corps recruiter. During the interview they will be evaluating your level of commitment, maturity, and experience. Get ready to be grilled on your reasons for wanting to join the PC, your expectations of two years of service, your hopes and fears, your strengths and weaknesses and your preferences with regard to the Peace Corps' geographic areas. Also be prepared to discuss, current relationships (boyfriend and girlfriend) and reactions from parents and friends about your decision to pursue two years in the Peace Corps. Keep in mind that the recruiters are looking for the best candidates amoung thousands of applicants, so you should treat the interview process like a real job interview. Additionally, they show you a video with volunteers living in very rough conditions -- no toilet, no water, and harsh environments. The point is to make sure you can handle the Peace Corps regardless of your final location. You might end up in posh Thailand or in a grass hut in Africa. The living conditions vary greatly across countries and sites.
Step 3: If the interview goes well then the Peace Corps recruiter will nominate you for a program area in a region of the World. Your nomination is sent to DC for evaluation and determination if you meet the requirements for a program in your region of nomination.
I was interviewed by a great recruiter but she eventually passed me to another recruiter that wasn't so great (my original recruiter went on maternity leave). The new recruiter had poor communication skills but even worse she did not really understand my background. I eventually circumvented her and talked to the recruiter in DC. The DC recruiters have a solid grasp of the programs and can provide you very valuable information.
Step 4: After nomination, you must complete a comprehensive medical, legal and dental clearance. It isn't complicated but just takes time to complete all of the paperwork and schedule all of the appointments. Once DC has received your clearances, they will review your complete application and make a final decision on inviting you to serve in the Peace Corps.
Step 5: In early September 2003, I received my official invitation inviting me to serve in Kazakhstan, Central Asia. I went straight to the map to identify the exact location and then spent the next few days researching everything that I could find about KZ. The invitation package included a booklet on my assignment, a book on KZ and the official PC manual. I had 10 days to review the material, contemplate the assignment and officially respond to the PC -- It only took me two.
Those are the key steps to get started with a two year assignment in the Peace Corps. It took me over a year to complete the process, however I have heard that a few volunteers completed the process in 3 or 4 months.