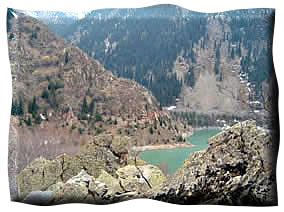 I built this site to share my experience in Kazakshstan with friends, family and colleagues (as well as with anyone else who might be interested). This site is a mostly uncensored story of my Peace Corps experience. So what you will see on this site is an accurate portrayl of what I am experiencing in Kazakhstan -- the good and the bad.
My Peace Corps experience began on February 29, 2004. My assignment is in economic development with an Non Government Organization (NGO). I spent my first 10 weeks in Issyk, one hour from Almaty, for training -- learning Russian, NGO technical training, and as much as possible about Kazakhstani culture. After training, I was sworn in as an an official Peace Corps Volunteer and departed for my two year assignment in Uralsk, Kazakhstan.
Now, I live in Uralsk and I am working for the International Business Center. You can read more about my PC training, my assignment and Uralsk throughout my site. I hope you enjoy your visit to my site and if you have ideas for additions to the site, then send me your thoughts.
I am also sending out an e-mail update to everyone that requests to receive it and I am posting additional correspondence on my blogs. If you would like to be added to my e-mail update then send me a request at tyoung1@onebox.com.
Disclaimer: The contents of this website are mine personally and do not reflect the position of the U.S. government or the Peace Corps.
First Twelve Months:
Leaving Targetbase
I made my departure date official the week of November 3, 2003. On one hand it was a relief to finally be able to share my upcoming PC experience with my colleagues and friends, but it was also a difficult week of explaining the decision to everyone. Most people thought it was a great decision at a perfect time in my life, however, I think there were a few people, that didn't know me very well who just couldn't understand why I wanted to join the Peace Corps. My last day at Targetbase was January 28, 2004. One chapter closed and now I begin to write a new and hopefully life altering chapter about my experience in the PC.
Relaxation and Preparation
I took all of February as my own personal time to prepare for my PC experience and spend time with friends and family. I spent two weeks relaxing in Koh Samui, Thailand, then I spent the last two weeks of February with my Family in Kentucky. In addition, I had many things that had to be done prior to departure-- prepare taxes, sell my car, store possessions, prepare future care packages, pack for two years and meet the 100 lb. limit. Lastly and most importantly, I just enjoyed every minute with my family, my friends, my dog and everything that is great about the US. I plan to savour those memories.
Training in Issyk
We began our Russian language training at 9AM each morning and we had technical training every afternoon. We were divided into small study groups (my group had 4 students). We studied Russian everyday for 10 weeks (20 hours each week). Our instructors were also our culture teachers and taught us how to acclimate to KZ in general, host family life, and business life. Overall, it was fun and exciting.
Going to Uralsk
Uralsk is located in the Northwest corner of Kazakhstan near the Russian border (find the Caspian Sea on the map and go straight up). From Almaty and Issyk, it is located nearly 62 hours by train and 3 hours by plane. I arrived in Uralsk on May 17th . Uralsk was settled in 1622, and it has a beautiful Pre-Soviet historical downtown. There are approximately 300,000 people who live in Uralsk, and approximately 40% of the population is Russian. Uralsk is situated on the border between Asia and Europe. When you cross the Ural River, you move between Europe and Asia.
My Assignment in Uralsk
I am working in Uralsk for the IBC Group. IBC is an NGO that provides support to small and medium size businesses in the West Kazakhstan Oblast. IBC operates 3 major businesses. 1) Business Incubator 2) Loan Fund 3) Internet Division. You can read more about the IBC Group on my assignment page.