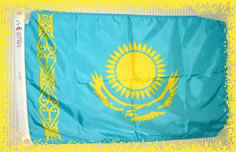 The Kaz-14 staging was a three day event held in Washington DC at the Holiday Inn Georgetown.
Staging began with registration on Sunday afternoon and followed by a three hour training session. Staging was mostly focused on restating all the materials in our invitation pack and team building activities. Get prepared to work in small groups with tablets and markers and presenting to the group -- typical training.
This is the basic agenda for our staging event.
Sunday, February 29, 2004
2:00 - 3:00 PM Registration (turn in all completed forms
3:00 - 7:00 Welcome to Peace Corps and start of Training
Welcome and introductions
Peace Corps' Approach to Development
Personal Definition of Success
Anxieties and Aspirations
Safety and Support
Nuts and Bolts

Monday, March 1, 2004
8:30 - 12:00 PM Training Program
A Slice of Life: coping with unwanted attention in country
Managing Risk
Crossing Cultures
Lunch
1:30-6:00 PM Training Program (cont.)
Policies and practices
Responsibilities and expectations
Personal definition of success in the peace corps
Bridge to pre-service training
Logistics of departure
Evaluation and Closing

Tuesday, March 2, 2004

12:00 PM Checkout

2:00 PM Bus leaves for airport

6:05 United/Lufthansa #8826 departs for Frankfurt

The best part about staging was the chance to get to know the other peace corps volunteers and begin to develop a bond with them. There are 25 other volunteers in my class (KZ-14). These volunteers will be one of my support groups for the next two years and therefore, they will play an important role in my sanity. There are 11 female and 14 male volunteers, 15 volunteers over 29 and 11 between the ages of 22 and 28. The oldest volunteer is 66 and the youngest 22. We also have one married couple.

I was amazed by the experience of the group. Nearly half of the volunteers have graduate degrees and many have extensive work experience - SAIC, Booz Allen, Archaeology etc. The stereotype of the Peace Corps is hippies and tree huggers, however this class goes against the stereotype. Basically, we are a slice of seasoned corporate America combined with corporate America newbies. Everyone was recruited for specific economic and business development jobs that require extensive business expertise.

I have posted additional photos of the volunteers on the photo (training tab) section of this site. Check them out.