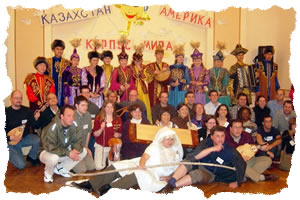 The Peace Corps is one of the best known and respected volunteer organizations in the United States. It was established in 1961 to promote world peace and friendship through the service of American Volunteers abroad. More than 170,000 Americans have served in the Peace Corps over the last 40 years throughout 137 countries.
I think the Peace Corps has a great deal to offer and two years isn't that long when you consider what you can accomplish in the PC. However, you should be prepared for a lengthy, time consuming application process -- and yes the bureaucracy of the United States Government.
There are Three Key Peace Corps Pillars: 1) Help the peoples of interested countries and areas in meeting their needs for trained men and women 2) Help promote a better understanding of the American people on the part of the peoples served 3)Help promote a better understanding of other peoples on the part of the American people
So, why did I join?
I have been asked this question by many people over the last 8 months, so I will try to boil it down into a concise answer. I have wanted to join the Peace Corps since attending the MA program at UT Austin, however my career took first priority. I am glad I made the decision to focus on my career, since I have enjoyed every single aspect of it. And, I think I am now in a much better place in my life to pursue this dream and make an impact. I wanted to join the Peace Corps for several reasons. At the most basic level, I wanted to give back , to learn to appreciate a new culture and way of life, to learn a new language and to go home each night feeling like I am making a contribution or impacting at least a few people. I have been very fortunate in my youth as well as my adult years, and I wanted to give back and help a few people that have not been as lucky as me. The last reason is much more personal, but I will share it anyway. I found myself at a crossroad -- I could clearly see the next step in my career in the advertising industry. I wasn't sure if that was what I wanted to pursue for the next 30 years. I decided that I owed it to myself to take a risk and look at things upside down instead of right side up. I hope this experience will give me the opportunity to compare two distinctly different options and make a decision on the best and most appropriate path for my future. Who knows, I may return to the Advertising industry, work for the UN, go into politics or I may find a new pursuit that I haven't even considered. And yes, being single with no kids made the timing appropriate, but I don't think it made the choice any easier.
---
Since 1960, when then-Senator John F. Kennedy challenged students at the University of Michigan to serve their country in the cause of peace by living and working in developing countries, more than 170,000 Peace Corps Volunteers have served in 136 countries all over the globe. They have been teachers and mentors to countless children. They've helped farmers grow crops, worked with small businesses to market products, and shown women how to care for their babies. More recently, they've helped schools develop computer skills, and educated entire communities about the threat of HIV/AIDS.

Throughout its history, the Peace Corps has adapted and responded to the issues of the times. In an ever-changing world, Peace Corps Volunteers meet new challenges with innovation, creativity, determination, and compassion. These are the qualities that have allowed the Peace Corps to achieve its mission since 1961, and they remain the keys to achieving that mission today.
quick facts
Peace Corps officially established: March 1, 1961
Total number of Volunteers to date: 170,000
Total number of countries served: 137
Current number of Volunteers:
7,533
Gender:
59% female, 41% male
Marital Status:
90% single, 10% married
People of Color:
15% of Peace Corps Volunteers
Age:
28 years old (average), 25 years old (median)
Volunteers over age 50
: 6% (oldest Volunteer is 84)
Education:
83% have undergraduate degrees, 14% have graduate studies/degrees
Current number of countries served:
71
Fiscal year 2003 budget:
$295 million